First Birthday Photos by Brenda Kerns
First Birthday Photos and a Cake Smash at Home Plate!
What a hit this first year birthday photo session was!  I love it when a client has a theme in mind and it's a huge bonus when my client plans out the details too.  Kelly planned out what she and her husband, Kyle, would wear, had several outfits for the birthday boy, Grady and had ordered a small baseball-themed birthday cake to use for the fun cake smash at home plate.  Add the family dog, a few props – baseball, bat, baseball hat – and a photographer and you are bound to have some fun photos!
Kelly selected one of her neighborhood parks  for the location for her baseball themed birthday shoot and it was perfect!  It is a nice sized park, it has public restrooms AND several baseball diamonds to choose from.  And it was pretty obvious that Grady had played at this park before; he was very comfortable roaming the grounds. Since my approach to photography is photo journalistic in nature, I tend to "follow the action" as it played out.  Once one-year-old Grady was dressed in his baseball uniform and given free reign, I simply followed him and kept my camera ready.
I predict that while Grady may grow up loving baseball just as much as his daddy does, I don't think that Grady will love sweet treats!  He definitely needed to be coaxed to taste the cake and icing.  I think that actually mom, Kelly, was the one who eventually "smashed" the cake.  I loved our time at the park and watching Grady explore and enjoy the baseball diamond.  I hope that Kelly and Kyle will appreciate the images we captured celebrating Grady's one year birthday for many years to come.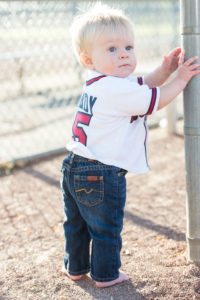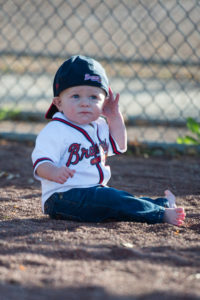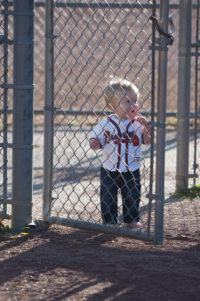 Call 614-579-8321 to schedule your First Birthday Photo Session!