Wedding photography by Brenda Kerns
STEPHANIE & CARLO TIE THE KNOT
"Once in a while right in the middle of an ordinary life, love gives us a fairytale."  The ordinary lives of these two individuals, Stephanie & Carlo, has indeed taken a ride down fairytale lane. I was lucky enough to be asked to photograph their wedding celebration last weekend.  The fairytale love story was witnessed by a small gathering of close friends and family at Giammarco's Italian Restaurant in Westerville, Ohio.
The groom, Carlo Vedovato, in full suit jacket and tie was all grins throughout the afternoon even in the 100 degree temperatures.   Carlo only once removed his jacket and cooled himself in front of a misting fan.  (I have a photo of that! )  And the beaming bride, Stephanie Riedmiller, couldn't hide her glow if she tried. Stephanie is a photographer's dream bride – she has a natural, glorious smile that lights up her face and all of those around her.  She was even willing to throw bocce balls before the ceremony and never tired of my words, "just one more."
From the solo violinist to the colored bubbles floating through the air, the joy, love and energy between these two people was easily felt.  Every once in a while we all need reminding to look for our own fairytales.  Thank you, Stephanie and Carlo for inviting me to share this celebration with you and experience the beginning of your fairytale.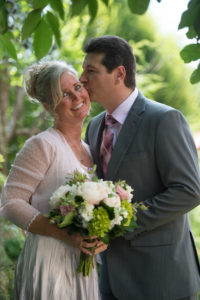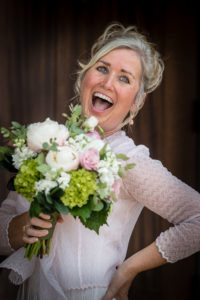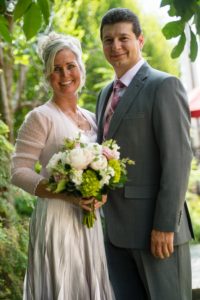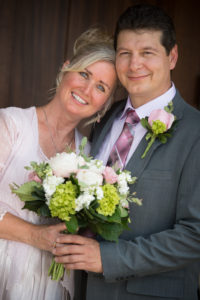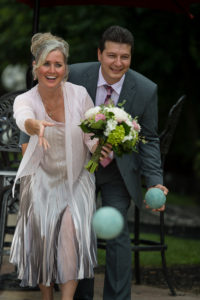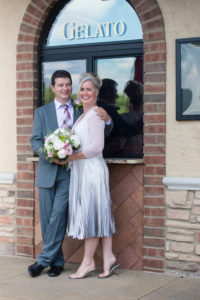 I love using the bride and groom's favorite song to set their special memories to music