Columbus Engagement Photography
 Marie & Kevin
What a beautiful setting we had at Rocky Fork Hunt and Country Club for a recent photo session!  What started out as family portrait sessions for employees of Donaldson Plastic Surgery, turned into an impromptu Columbus engagement photography session for this darling couple.   Once we started shooting Marie & Kevin, Marie shared with me that Kevin had recently proposed to her and she was glowing.  That made it simple for me to capture their joy in these Gahanna engagement pictures.
Columbus Engagement Photography by Brenda Kerns

It was a brisk Sunday morning at the end of October,  while I was bundled up with a coat and gloves, Marie and Kevin didn't seem to notice the cold at all!  One of the reasons I enjoy working with couples for their engagement pictures is just how quickly they become comfortable in front of the camera.  Having another person to snuggle up to and focus on instead of worrying about the camera makes it easier to capture genuine expressions.
Of course, we were lucky to be photographing at the Rocky Fork Hunt and Country Club.  What beautiful grounds! It is a private country club situated on 175 acres of landscaped grounds, and rolling hills and fields along the Rocky Fork Creek in Gahanna, Ohio.  It was the perfect backdrop for family portraits and Columbus engagement pictures.
Rocky Fork Hunt and Country Club Family Portraits

And who doesn't LOVE to see LOVE! Part of the fun I have shooting Columbus engagement photography is capturing the interaction between the couple.  Finding out how the couple met, where they were engaged, what their vision is for their wedding. There are so many exciting decisions ahead for them!
Columbus Engagement Pictures

Marie and Kevin were playful and comfortable with each other. All smiles and snuggles.  I hope you enjoy this very special time in your lives as you begin planning your wedding!  It was my pleasure photographing your Columbus engagement pictures!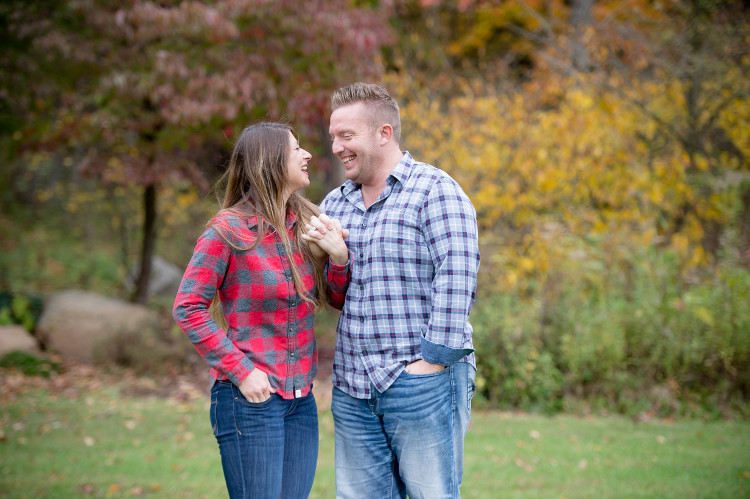 Interested in engagement or wedding photography?  Check out my free dream wedding planner!